Hello, I'm Matt !
freelance web developer,
building tailor-made applications to simplify everyday life.
I live in southwest of France
I'm a freelance web developer, mainly oriented in backend development.

I have 10 years experience as project manager, dealing with processes and business practices.
Inside the companies I worked for, I build multiple web based applications to simplify processes and communications within the company and with our clients.

It was so appealing to me, that's I decided to launch my own service. Combining 2 passions: development and problem solving, to build tailor-made solutions that will ease my customers' work.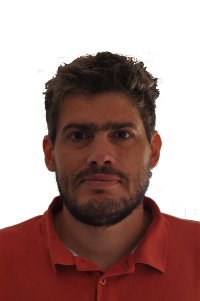 After deep analysis of your needs, I will build the application that will save you time, frustration and money.

My clients generally use the following services



Web Platform
Access your app from everywhere in the world

Replace your complex Excel with a dedicated management app.
No more errors, no more wasted hours searching for a formula error

Dashboard customization to oversee your operations

Direct Integration with your preferred Google Apps

Generate your invoice, packing list, monthly reports, ... into a PDF file

Automate the work with direct communication with API
Responsive Applications for Smartphone/Tablets use

Dedicated Chart to get a better overview of your results
Ajax
CSS
Jquery
Bootsrap
XML
HTML
JSON
PHP
MySQL
Javascript
cURL
CSV
HTML2PDF
Google API
Paypal API
Pinnacle API
D3.js
Swift Mailer
GESTION DE CARROSSERIE
Build a solution to manage entirely the garage / Desktop and Mobile
Ajax
CSS
Jquery
Bootsrap
XML
HTML
JSON
PHP
MySQL
CSV
HTML2PDF
Google API
Swift Mailer
Working Cases: Book Apppointment, record multiple cases, take picutres and send them by email, rent car to client
Invoice : Create Invoice, PDF, Send to Client/Insurance
Purchase : Place PO, Email it to Supplier,
Employees: Manage, Create Salary sheet (PDF), send Salary by email, Record working Time, Time Report
Other: Manage all contacts, Documents Management, Cash Register,
TAGADAPP
Gestion des courses hippiques
Ajax
CSS
Jquery
Bootsrap
XML
HTML
JSON
PHP
MySQL
CSV
HTML2PDF
Contest : Management of the competition with adding challenges and horses
Start List : Administrator can create start list and linked differents events related to it (Start, Cancel, Delai, Jumpoff,...)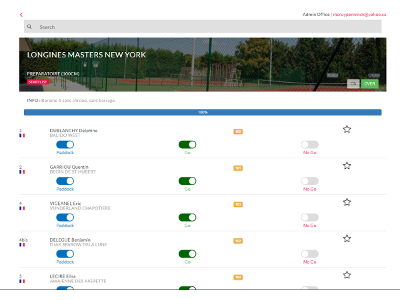 TAGADAPP
Build a solution to manage entirely the garage / Desktop and Mobile
Ajax
CSS
Jquery
Bootsrap
XML
HTML
JSON
PHP
MySQL
CSV
HTML2PDF
Working Cases: Book Apppointment, record multiple cases, take picutres and send them by email, rent car to client
Invoice : Create Invoice, PDF, Send to Client/Insurance
Purchase : Place PO, Email it to Supplier,
Employees: Manage, Create Salary sheet (PDF), send Salary by email, Record working Time, Time Report
Other: Manage all contacts, Documents Management, Cash Register,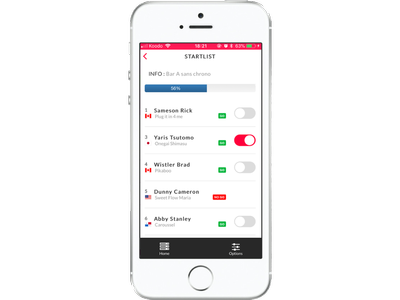 CARROSSERIE DE GENEVE
Build a solution to manage entirely the garage / Desktop and Mobile
Ajax
CSS
Jquery
Bootsrap
XML
HTML
JSON
PHP
MySQL
CSV
HTML2PDF
Google API
Swift Mailer
Accounting : Full comptability, Reports, Balance, Assets, VAT
Bank: Upload Statement, Payment Synchronisation with open invoices
Working Cases: Book Apppointment, record multiple cases, take picutres and send them by email, rent car to client
Invoice : Create Invoice, PDF, Send to Client/Insurance
Purchase : Place PO, Email it to Supplier,
Employees: Manage, Create Salary sheet (PDF), send Salary by email, Record working Time, Time Report
Other: Manage all contacts, Documents Management, Cash Register,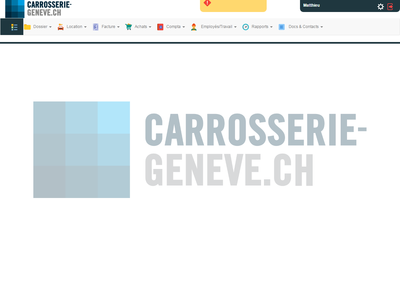 PARK MY CAR
Application to manage their client's bookings and oversee the operation
Ajax
Jquery
Bootsrap
JSON
PHP
MySQL
HTML2PDF
D3.js
Swift Mailer
Reservation : Manage Client's bookings
Daily : Record all tasks done during the day (reservations handled, working hours, expenses) and build PDF report with a dashboard
Employees: Record working hours, build salary sheets
Reports: Revenue , booking reports, employees hours ; (period = daily/monthly/yearly)
Charts: Revenue reports by day, month, year, charts
Users: Manage users and give them the corresponding access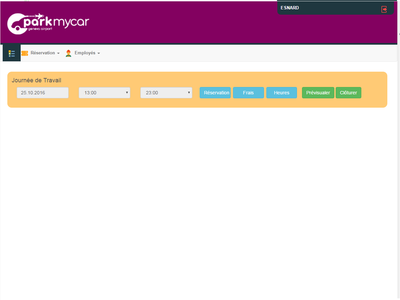 PARK MY CAR
App for smartphone under Android and iOS
Phonegap
Ajax
Jquery
Bootsrap
JSON
PHP
MySQL
Swift Mailer
Booking: Allow clients to make bookings and manage them
Google Map Integration
Create/Update client profile within the app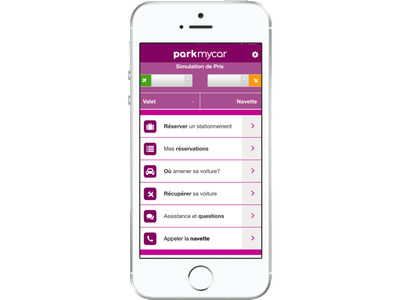 RELIANCE
Web Site for the Reliance training center
Wordpress
Woocommerce
Jquery
Bootsrap
MySQL
Woocommerce: Management of the stores of the client
Plugin: Plugin creation under Wordpress based on the needs of the client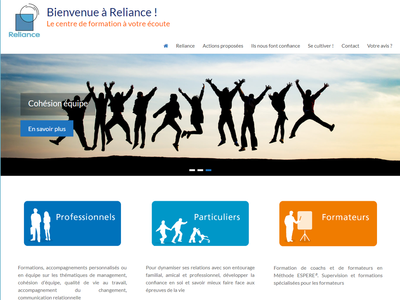 RELIANCE
Web application allowing to manage the activities' registration
Ajax
Jquery
Bootsrap
JSON
PHP
MySQL
HTML2PDF
D3.js
Swift Mailer
Registration: Management of the clients' registration
Communication with Woocommerce API to manager orders
Send automatically personalized documents to the client when they are registrating
DFC Sports
Application to manage their courses, products, and their client's subscriptions
Ajax
Jquery
Bootsrap
XML
HTML2PDF
JSON
PHP
MySQL
Paypal API
Clients: Manage their subscriptions, verify payment status
Payment : Client can access their profile and make payment via paypal
Products : Manage products, with stocks and selling
Invoice : Create Invoices (PDF), check pending invoice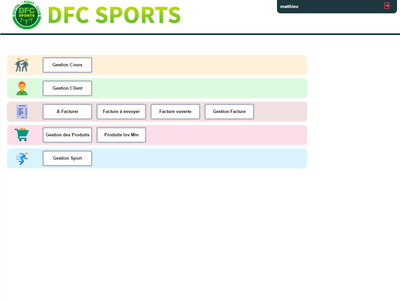 Scorpio Consulting
Web site for scorpio-consulting